The Project
When I heard we were doing a social networking project I was initially intimidated. I didn't know where to begin! Especially if I wanted to be competitive with the social networking giant such as Facebook, Instagram or Twitter. Clearly we, as humans want to be social, but at the same time there are so many ways to have an online presence right now that its oversaturated and daunting.
People rely on each other for a variety of reasons. Furthermore, people like connecting in different ways and through different mediums, thats why Instagram, Facebook and Twitter can live in peaceful coexistence. They are similar without being competitive. The ability to take filter and post a photo on Instagram and instantly send it to Facebook and Twitter with effortlessly allows the two mediums to enhance user experience rather than impede.
The Problem
With a love of travelling and adventure sports, I know the importance of trusting your instructors and the people you go with! I spend a lot of my time connecting people I know with people I've met traveling. Starting a shared Facebook message that starts with:
"Hi Alice, meet Shawn.
Alice: Shawn is heading to Australia in January and wants to try out some diving. Are you still instructing in Byron? Or can you recommend someone?
Shawn: I met Alice in Thailand diving and she's super relaxed and conscious of preserving the Great Barrier! I'm sure she can help you out in finding a good place to dive! Ps. check out all of her shark pics!"
Or something along those lines! But what if I could remove me from this scenario?
The Goal
What if I could create a social network that connects travellers looking for adventure to reviewed companies, people and places they've experienced along the way?!
So I want to be able to create a network for people to discuss and post about the amazing places they've been and what they did there!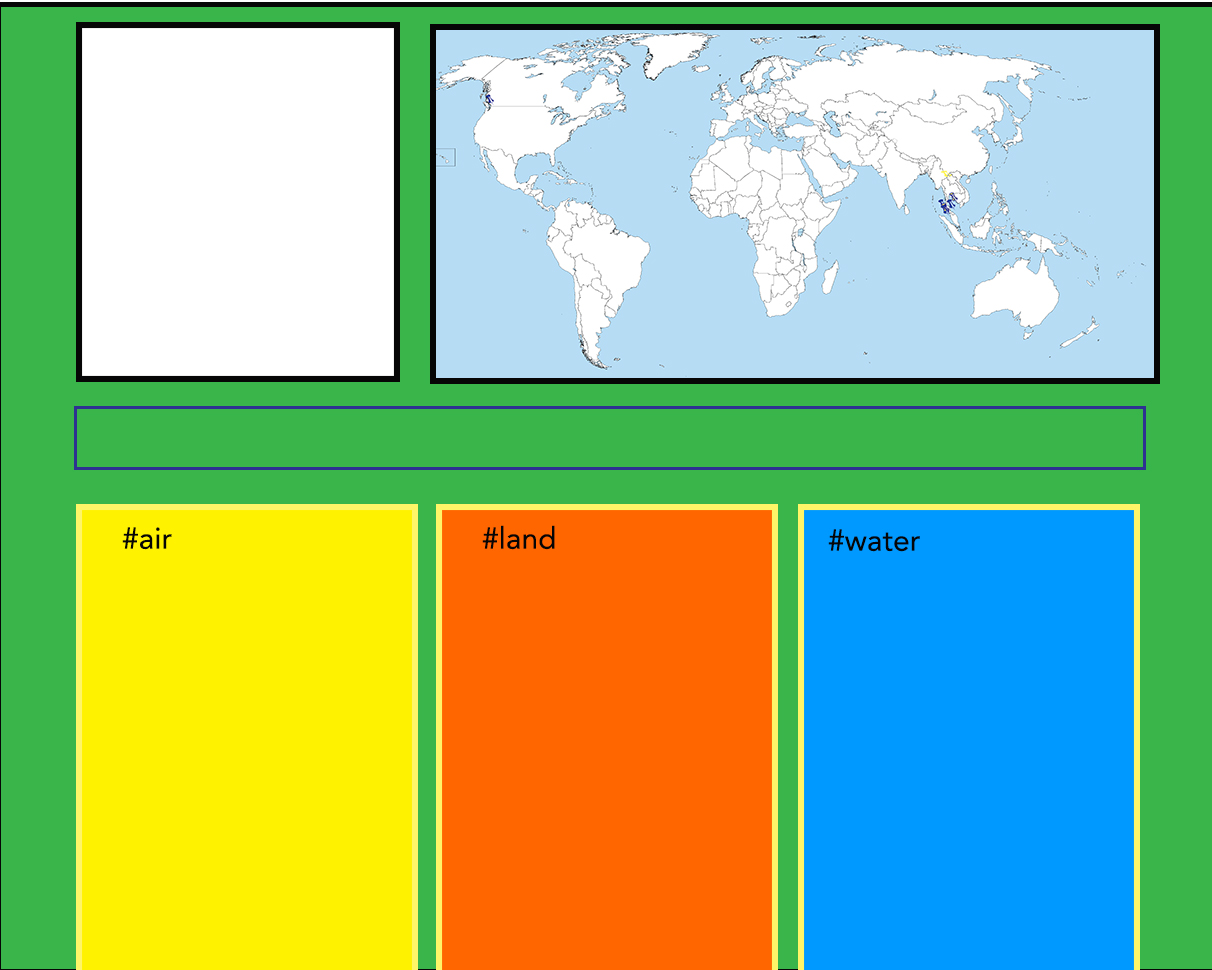 Clearly this is a very early mockup of what it would be. But what I would want is for the individual profile to have a user profile set beside pins on a map of where they have been and coloured to what they had done. In this example I have set sports in the #air to be yellow, on #land to be red and #water to be blue. The pins are colour coded in a similar fashion so when you hover over the places I've done these activities you can see a magnified visual of the area and when you click on a specific pin you get the details: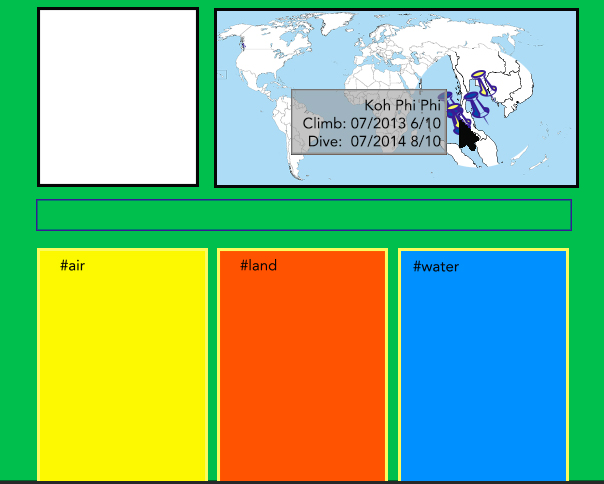 Why will people use this?
First of all, people love to brag about the amazing stuff they've done. Especially to people that will actually appreciate it! Also, I want to connect with other people that can give me ideas and inspiration to try other sports. For example, on one persons Rock Climbing Profile they could have some routes of Deep Water Soloing and introduce a ton of climbers to the incredible other way to climb:
Divers especially, but most extreme enthusiasts learn to properly log each of their routes for safety and proof of completion. Therefore, it will not be a hassle to move this structure to the web.
Also the community of extreme sports individuals is so welcoming. Most of the people who do it regularly have found it to be an outlet and are ecstatic to share it with others. Furthermore, in a study done by Socialnomics (Social Media 2014), it was found that 78% of people are receptive to peer recommendations compared to 14% to advertisements. Thus, peoples opinions of people, places and companies matter to others.
I want to be able to allow users to make comments about these things that can be easily viewed by others. Similar to Trip Advisor, except they will already be using the site to update, so the posts wont be as emotionally charged by individuals who absolutely loved or hated an experience. Also, because the opinions will be linked to my profile, individuals or not. So in the future, if they found that I have similar taste to them, they can refer to my opinions about other places and people.
comments powered by

Disqus